2014
⚓
S
TEVE
Z
ISSOU
⚓
from
THE LIFE ACQUATIC / TEAM ZISSOU
Let me tell you about my Halloween costume...
---
Waverly's Costume Rank: ★★★★
Dad's Costume Rank: ★★★★½
It turns out that my prediction about Waverly's next costume at the end of last year was prescient. Given Waverly's interest in Wes Anderson's Moonrise Kingdom and her excitement about the spring debut of The Grand Budapest Hotel, I encouraged her watch The Life Aquatic on DVD and she fell in love with the film, with little prodding from me. If you have not seen the film, it is a fiction about famed but flawed under sea adventurer Steve Zissou, loosely patterned after Jacques Cousteau. She liked the movie so much she named her second adopted kitten "Zissou".
The concept of doing something revolving around the film entered the conversation but Waverly was juggling several concepts this year. In June, she surprised me with a very detailed sketch of her idea for a Team Zissou costume (see below). I was thoroughly impressed by her sketch and how much thought she put into it. Not just replicating a shark but also thinking about how the costume prop would move. She also included a costume sketch for me——a crayon ponyfish, but that was unrealized. I just love it when all the effort (and fun) that we have put into our Halloween projects manifests itself in Waverly's seemingly random output. The nice thing about the Team Zissou concept is that we each became a member helping bring her concept to life. She nominated me for "Klaus Daimler, German", a part I was happy to play. I only needed to add a pompom to my cap for the part.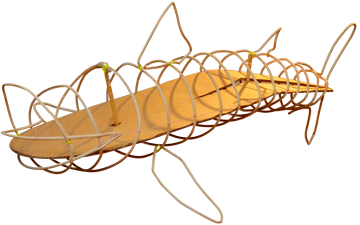 Concurrently, Natasha was fashioning a Nana puppet for Waverly's middle school musical production of Peter Pan. The puppet was almost as large as a full-grown St. Bernard dog but had to be held, manipulated and carried by Waverly on stage. Natasha purchased a length of wood cane (Cane & Basket) and built a successful puppet. The left-over cane was integrated into Waverly's Halloween shark construction——light and flexible. The body was constructed in a spiral——one very long piece of cane. A quick coat of papier-maché by my mother (what's a Halloween costume project without my mother's involvement) with an assist from Waverly and we were ready for painting. Being members of Team Zissou, we wore red ski caps whenever we worked on the costume.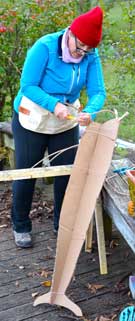 Pre-Halloween
Halloween for us has typically been a group effort centered around Waverly. As we have received more and more invitations to pre-Halloween parties, it had been more important for us to develop costumes for ourselves as Waverly's costume is often not ready until the day (afternoon) of Halloween and she has her own teen social agenda. This year we threw together some quickie costumes primarily involving makeup for ourselves. A Vincent van Gogh selfie for me and a Roy Lichtenstein character for Natasha. Just remember, if you use Performance Studio's liquid makeup, avoid the yellow——it stains the skin, if only for a few days. I excavated the frames out of my mom's basement, rescuing them before they rotted, brushed off the spiders and we were good to go with minimal effort.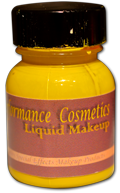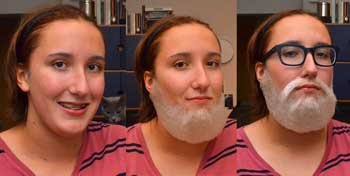 After our experiment with liquid makeup for a prior October party, we were left with a quandary. Should we use a purchased human hair beard and mustache applied with the dreaded and smelly spirit gum adhesive or should we paint the beard on Waverly's face. We tried the painted beard and were successful for one party. Apparently we scared her with horrid stories of beard removal and she sided for a painted beard at school. When we picked her up the paint was completely rubbed off her face and she then opted for the human hair beard for trick-or-treating.
Our early plan was to use a light blue top and apply blue 3M painters' tape for the official Zissou uniform trim. We also planned to use the tape on her sneakers to imitate the official Adidas. I was especially pleased that Waverly wore the blue scrubs (pants) that I wore in the hospital when she was born. What goes around, comes around.

The Big Night
We typically do not set forth for treats until the first trick-or-treater arrives at our door. Tonight, no one showed up immediately after darkness set in. We decided not to wait and started out only to find a desolate street. Deadsville. Only one of our immediate neighbors was even home. Of course, the temperature was dropping like a rock and it was a Friday night (three big high school football games happening) but we had never seen a Halloween start like this before. We trudged on with the hope that fewer competitors would lead to greater amounts of candy offered. After reaching the end of our block we finally spied a few other kids out in the cold. Once we reached the street behind our house things began to pick up and it felt like Halloween again.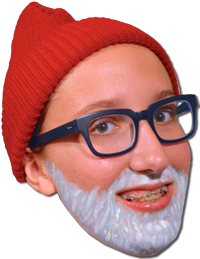 This year felt a little bit like attending an aging rock star's concert tour where you wonder if they just need the money. While people loved our costume/prop, few people understood the film reference but that did not surprise us. Conversation often centered around Waverly's past costumes and her lemonade stand. It was as if we were going door to door to reminisce about old times. Waverly's friends at school all spoke of spending the night at well-known and popular trick-or-treating haunts in town. I respect that Waverly treats her neighborhood as her audience. Most people have watched her grow up over the years and look forward to seeing her each year. It was worth the effort for Waverly as she likes the attention and likes hearing what people remember about her. As a dad, I was especially pleased to hear one neighbor say she was "keeping an eye" on Waverly. "She's going places!" That sure made the chilly effort worth it for me.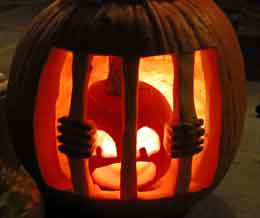 What surprised me was that most people recognized her even though she looked like Sigmund Freud wearing a red ski cap and carrying a giant fish. Perhaps people expected Jung. I suppose the papier-mâche prop was her give-away.
Halfway through our route we arrived at the top of the hill behind our house. Typically, we bypass the two houses that sit at the very top because their driveways are long and winding, appearing to be at 45° angles from the road. I would be shocked if the occupants ever walked down these driveways just to get their mail. Back in 2004, we passed these houses and heard a woman imploring us to make the trek up the steep driveway to her door. The treat at the end of this trek would have to be pretty spectacular to justify the effort when there are easier pickings at lower levels. We yelled back that she should come down to street level as we just kept walking past. This year Waverly got to their mailbox and confidently stated, "I'm gonna go for it!" Surprised, I egged her on by humming the theme from Rocky, where Stallone climbs the steps of the Philadelphia Museum of Art. She took off like a bullet and made it all the way to the top, so high up that I could barely see her. Then she ran down the steep grade and indignantly stated that there were five bowls by the front door—all of them empty! People, really? This unattended bowl maneuver just does not cut it, especially with the "Only take one" sign. I was still proud of Waverly's effort.
Overall, Waverly judged this year's Halloween to be a success.
Why I love Waverly's School
Waverly's teacher and advisor in 6th grade, Mr. Lukach, shared a love of Wes Anderson movies. Over the summer Waverly attended a film study camp and was allowed to show a favorite film clip to the class. She selected the Jaguar shark scene from the Life Aquatic. As we got closer to Halloween this year, it began to be hinted at that her old advisor and Mr. Bezaire, her 7th grade math teacher, may be teaming up as Wes Anderson movie characters. Natasha sensed a calamity in the making——the kind of calamity where two women show up a fancy ball in the same gown. Sure enough, Waverly showed up to school this morning at her usual early time and was greeted by Mr. Bezaire in full-on Steve Zissou costume. Mr. Lukach dressed as Ned. I loved the psychic connection Waverly has with her teachers. Great minds think alike. The other great thing about her school day was the middle school "town meeting" that served as the annual costume contest. Waverly was nominated for most creative and while she did not take home the prize, she did get recognition in front of the entire middle school. The majority of her classmates may not know of Steve Zissou, but her teachers certainly did.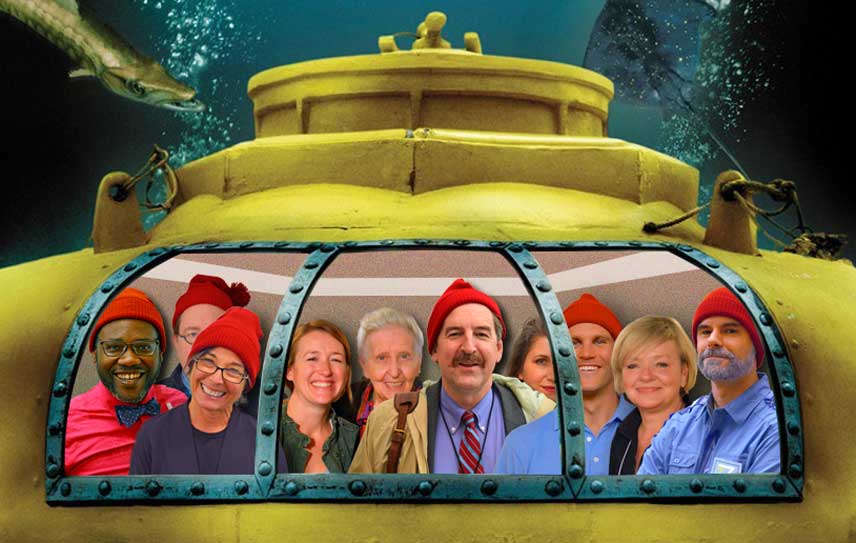 Random Thoughts
Coldest Halloween in years! Baby, it was cold out. I am so glad a prerequisite of this year's costume was a ski cap. We needed it this year. This may be the first Halloween spent in Nashville that required gloves.
By the numbers: 9 lbs. of candy collected this year. Partly cloudy. Slight winds. When we left the house at 6:23 it was 45°. When we returned at 8:15, it was 42°. Waxing Gibbous moon.
Two weeks before Halloween this year I carried our red Zissou caps with me to pickup Waverly from school each day and we wore them for the ride home. This was our way of flirting with giving away the concept. One day I forgot them and Waverly exclaims upon opening the car door, "Where's my hat?"
This year, we were most confused with "The Old Man and the Sea", the sailor on the Cracker Jack box, and the movie Jaws.
No one even asked about putting candy in the mouth this year!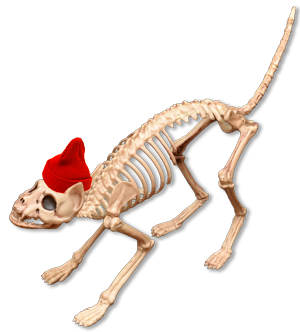 During the week leading up to Halloween, Waverly instructed me to make an iTunes playlist of all the soundtracks of all the Wes Anderson movies that we owned, including Seu Jorge's Portuguese interpretations of David Bowie's Rise and Fall of Ziggy Stardust (plus the Bowie originals). I have to say, it's an awesome playlist. Bowie just sounds better in the original Portuguese.
This year's neighbor-of-the-year award goes to the Claycombs! The Claycombs gave us a replacement flashlight during the Ham Year flashlight fiasco and have always been a delight to visit. Mrs. Claycomb knew immediately who Waverly was trying to emulate in her costume and stated she saw the movie just two days ago! She also told us it was her son's favorite movie. The "G's" (last year's winner) were a close second. They loved the costume but made no mention of recognition although I am sure they have seen the movie.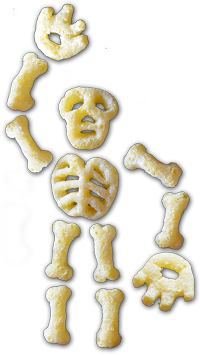 Sounds of the evening
Waverly stated that her favorite sound was that of candy being poured into a cold plastic pumpkin-shaped tote.
One house had "scary" sound effects playing outside their door. It sounded like a cross between Gregorian Chants and Tibetan monks. Waverly made the observation that it sounded like the sound she makes when she shops for school supplies. She immediately made this self-realization: "I sound like an idiot." Her call, not mine.
Another house tried a similar sound track of ghosts moaning. It sounded pretty good a first but as I waited for Waverly to knock on the door, the sound devolved into something akin to post-coital distress. Waverly was very sad I put this thought into her head.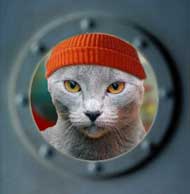 Epilogue
On the trip home from school on Monday before Friday's Halloween, Waverly energetically steered the conversation to next year's Halloween costume. Her mind was working so hard it was giving me a headache. Perhaps it's time to screen The Darjeeling Limited for her inspiration, but no expectations. She did mention that it would be wise to get away from the Wes Anderson oeuvre for a little while.
Next Year
That Halloween costume idea I like is coming back in style. ; )